This feature was inspired by It's
Monday! What are you reading?
hosted by Sheila at
Book Journey
and also by
The Sunday Salon.
It sure has been a busy Fall so far, even if it's not officially Fall until Saturday, but a girl can dream, right? We had the wonderful
BBAW
last week and that was a fine kick off to the Fall reading season. I've decided to change my weekly news post up a bit by putting what I'm reading first and then share news and events with you after. After all, it is all about the reading!
What I'm reading/have been reading....
Currently reading
It
by Stephen King (for
It-Along
...so behind!)
Wuthering Heights
by Emily Bronte (
Wallace's read-a-long
)
Gone with the Wind
by Margaret Mitchell (
Fanda's read-a-long
)
The Gunslinger
by Stephen King (my EPIC Dark Tower read-a-long at The Stephen King Challenge-see below)
The Gilded Lily
by Deborah Swift (book tour)
The Passage
by Justin Cronin (TuesBookTalk read-a-longs)
Recently read
Jane
by Robin Maxwell (
review
)
The Hallowed Ones
by Laura Bickle (
review
)
Reviews coming up
Breed
by Chase Novak (at
Castle Macabre
)
The Gilded Lily
by Deborah Swift (here on Wednesday)
Wolf Hall
by Hilary Mantel
The Cider House Rules
by John Irving
What's going on in my/the reading world....
It's still not too late to join us for the
EPIC Dark Tower Read-a-Long
. We just finished the second chapter in
The Gunslinger.
Detailed reading schedule is posted at the
Stephen King Challenge
blog. We're reading the entire
Dark Tower
series from September this year through July 2013! You can check out the details and sign up at the dedicated blog
HERE
.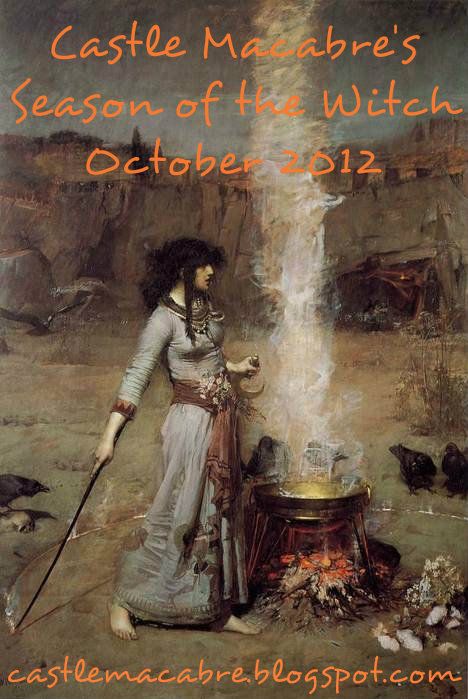 Coming in October to
Castle Macabre
...
Season of the Witch
! If you are interested in participating by writing a guest post or, if you're an author, and you'd like to donate a book for a giveaway or share a guest post or spotlight your book, let me know. The focus is going to be witches so I introduced the
Witchy Mini-Reading Challenge
. Full details and sign up are
HERE
.
to spend time that weekend (as much or as little as your schedule allows) working on your blog
to create a to do list to share on your blog and link up with other participants
to hopefully participant in several mini challenges and learn something new
to connect with other participants through blog hopping or twitter
to make new blogging friends!
to come away at the end of the three days with a spiffed up blog!
I'm going to (hopefully) back up my main blogs, work on my library blog, and work on getting the FrightFall Read-a-Thon organized over at Seasons of Reading. Full details and sign up
HERE
.
October 13! Yup, participating...even though it's my birthday weekend and I'll be gone part of the day celebrating with my family and going to movies and my monthly library sale. The
Southern Festival of Books
is that weekend as well, but I'm thinking about going on Sunday. Decisions, decisions! Find out info and sign up for the
24 Hour read-a-thon
HERE
.
Mailbox Monday
was created by
Marcia
and is currently on tour. This month's host is BookNAround
.
(You can click the book covers in the BookBox to view the book(s) on Amazon)
WON
:
Commedia Della Morte by Chelsea Quinn Yarbro...from Fantasy Literature
Rubies of the Viper by Martha Marks...from Judith Starkston
Spartacus the Gladiator by Ben Kane...from Historical Boys (C.W. Gortner)
From Holly at Bippity Boppity Book (Partial to the Past giveaway):
The Second Empress by Michelle Moran
The Eagle and the Raven by Pauline Gedge
Outlaw: A Novel of Robin Hood by Angus Donald
FROM THE AUTHOR FOR FUTURE REVIEW:
The Secret Keeper by Sandra Byrd
HISTORICAL FICTION VIRTUAL BOOK TOUR:
The Gilded Lily by Deborah Swift
PUMP UP YOUR BOOK TOUR:
Whirlpool: A Novel of Niagara Falls by Eileen Enwright Hodgetts
RECEIVED FROM WUNDERKIND PR (UNSOLICITED):
The Demoness of Waking Dreams by Stephanie Chong
Edge of Oblivion: A Night Prowler Novel by J.T. Geissinger
LIBRARY SALE:
The Queen's Mistake by Diane Haeger
Spirit Bound: A Vampire Academy Novel by Richelle Mead
The Moonlit Earth by Christopher Rice
Dead Reckoning by Charlaine Harris
Affinity by Sarah Waters
The Sealed Letter by Emma Donoghue
Slammerkin by Emma Donoghue
The Temptation of the Night Jasmine by Lauren Willig
The School of Night by Louis Bayard