I had to forego my regular longer news post and Mailbox Monday because time got away from me. I will tell you that I received this wonderful book last week:
I am reading it for review for a blog tour...which is tomorrow. Yes, another all night reading session!
I will have a full Mailbox Monday post next week with all the goodies I bought at the library sale over the weekend.
In other news...
Please check out the poll for our next read-a-long (right sidebar) at
Historical Fiction Connection
and please vote if you have an inkling to join us. There'a a post
HERE
that tells about each selection in the poll.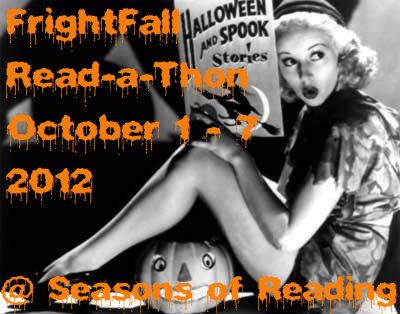 Don't forget to sign up for the
FrightFall Read-a-Thon
coming the first week in October. All the details and sign-up
HERE
.
Check out my Halloween event and mini-reading challenge going on throughout the month of October at
Castle Macabre
. You can read all about
Season of the Witch
HERE
.
I'm kicking around some ideas for a back to back or combination read-a-thon/write-a-thon. The read-a-thon will focus entirely on review books. I'm kicking around ideas and I'll be looking for opinions so be sure to stop by
Seasons of Reading
and give me your input. My November is pretty open until my Christmas Reading Challenge starts Thanksgiving week. Are we really that close to Thanksgiving and Christmas? Gah!
What's going on in your neck of the woods?