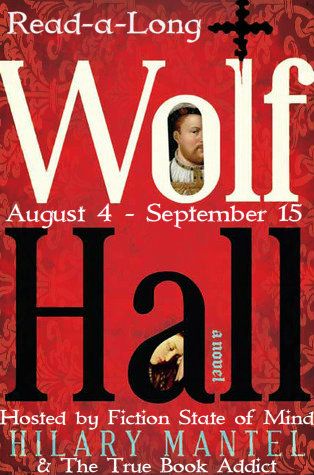 Kai (
Fiction State of Mind
) and I decided to host this read-a-long because we have both been wanting to read this
Man Booker Prize
winning novel,
Wolf Hall
by Hilary Mantel, for some time. In light of the recent release of Mantel's second novel in the series,
Bring Up the Bodies
, we thought we should get up to speed.
About the book:
"Lock Cromwell in a deep dungeon in the morning," says Thomas More, "and when you come back that night he'll be sitting on a plush cushion eating larks' tongues, and all the gaolers will owe him money."
England, the 1520s. Henry VIII is on the throne, but has no heir. Cardinal Wolsey is his chief advisor, charged with securing the divorce the Pope refuses to grant. Into this atmosphere of distrust and need comes Thomas Cromwell, first as Wolsey's clerk, and later his successor. Cromwell is a wholly original man: the son of a brutal blacksmith, a political genius, a briber, a charmer, a bully, a man with a delicate and deadly expertise in manipulating people and events.
Ruthless in pursuit of his own interests, he is as ambitious in his wider politics as he is for himself. His reforming agenda is carried out in the grip of a self-interested parliament and a king who fluctuates between romantic passions and murderous rages.
From one of our finest living writers, Wolf Hall is that very rare thing: a truly great English novel, one that explores the intersection of individual psychology and wider politics. With a vast array of characters, and richly overflowing with incident, it peels back history to show us Tudor England as a half-made society, moulding itself with great passion and suffering and courage.
Dates:
Saturday, August 4, 2012 - Saturday, September 15, 2012
Details:
Start reading on Saturdays, discussion posts will be posted on Fridays.

You can do a post and leave your link in the comments, or you can just post your thoughts in the comments of the week's discussion post.

We will have an extra day at the end of the read-a-long so the last discussion post will post on Saturday, September 15 and will include wrap-ups/final thoughts.
Reading schedule:
Week One (August 4 - 9)--Part One (this may seem like a short section, but there is also an extensive cast of characters and family trees to read through before Part One)

Week Two (August 11 - 16)--Part Two

Week Three (August 18 - 23)--Part Three

Week Four (August 25 - 30)--Part Four

Week Five (Sept. 1 - 6)--Part Five

Week Six (Sept. 8 - 14)--Part Six (with author's note, etc.)
Posting Schedule:
Kai and I will be alternating discussion posts each week on our respective blogs
August 10--Part One discussion post (hosted by Kai at Fiction State of Mind )
August 17--Part Two discussion post (hosted by Michelle here at The True Book Addict)

August 24--Part Three discussion post (hosted by Kai)

August 31--Part Four discussion post (hosted by Michelle here)

September 7--Part Five discussion post (hosted by Kai)
September 15--Part Six (wrap-up/final thoughts--hosted by Michelle here)
Be aware that if you have not read to the end of the scheduled reading sections each week, there will most probably be spoilers in the discussion posts.
Feel free to grab the button at the top of the post to place on your blog and/or to use in your blog posts.
If you would like to join us, please leave a comment below. We certainly would love to have you with us in the reading of this award winning historical novel.
If you have any questions, feel free to ask in the comments or email me at truebookaddictATgmailDOTcom