This feature was inspired by It's
Monday! What are you reading?
hosted by Sheila at
Book Journey
and by
The Sunday Salon.
I can't believe it has been three weeks since I posted a weekly news/mailbox monday post. I was out of town a little over a week ago and I came back sick. I've been sick for a week and a half and can't afford to go to the doctor. Ugh! Just hoping it goes away on its own without need for antibiotics.
What's going on in my reading world....
The
Spring into Horror Read-a-Thon
over at
Castle Macabre
starts next Monday, the week of April 23 - 29, on the tail of
Dewey's 24 Hour Read-a-Thon
. The decision was made through the poll I had up over at
Castle Macabre
to concentrate on the reading so there will be no mini-challenges this time. However, there will be a giveaway at the end with a first, second, and third place for everyone who participates in the read-a-thon. I've had a few prize donations from some generous authors and am still seeking donations. Authors looking to promote your books? Contact me! I also have a couple of bloggers holding giveaways as well. For all the read-a-thon details and to sign-up, head over to this
POST
at
Castle Macabre
. Sign-ups are open through Friday, 4/27, for those who only want to participate on the weekend.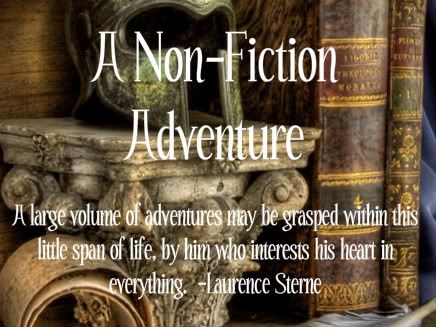 Just another friendly reminder about my new challenge,
A Non-Fiction Adventure
? I took the lead from the awesome creators of the
Fill in the Gaps: 100 Project
and
The Classics Club
and decided to create a similar challenge focusing on non-fiction books. The fruition of this idea came to me as I was looking at my shelves of non-fiction books. In my library of 3000+ books, non-fiction makes up about 1000+ of that total. I focus so heavily on fiction I never take the time to squeeze in some non-fiction reads which I do love to read. So I thought, why not follow the lead of those I mentioned above and create this challenge for the non-fiction genre. I have created a
dedicated blog
for this challenge. You can read all the details and sign-up
HERE
. Would love for you to join me for this adventure!
What I've been reading....
Currently reading:
The Flower Reader
by Elizabeth Loupas (review coming Wednesday)
The Catcher in the Rye
by J.D. Salinger
Bleak House
by Charles Dickens
A Clash of Kings
by George R.R. Martin
Finished recently:
The Sister Queens
by Sophie Perinot (
review
)
The Dragon's Harp
by Rachael Pruitt (
review
)
House of Leaves
by Mark Danielewski (
review
)
I will list my upcoming reads for my
Dewey's Read-a-Thon
starting post and my read-a-thon post next Monday.
Mailbox Monday
was created by
Marcia
and is currently on tour. This month's host is
Cindy's Love of Books
.
FOR REVIEW:
Sound of the Heart
by Genevieve Graham...from the author
Jumble Tales
by Steve Morris...for
Read 2 Review reading group
for May
WON:
The Mongoliad: Book One
by Neal Stephenson, Greg Bear, Mark Teppo, E.D. deBirmingham, Erik Bear, Joseph Brassey, and Cooper Moo....from
Klout Perks
AMAZON (associate earnings):
Famine
by Graham Masterton
10 Days to Faster Reading
by Abby Marks-Beale
LIBRARY SALE:
A Halloween How-To: Costumes, Parties, Decorations, and Destinations
by Lesley Bannatyne
Cassandra and Jane: A Jane Austen Novel
by Jill Pitkeathley
Faithful Place
by Tana French
Nevermore
by Harold Schechter
The Ladies of Grace Adieu and Other Stories
by Susanna Clarke
The Forgotten Garden
by Kate Morton
The Virgin Queen's Daughter
by Ella March Chase
Soul
by Tobsha Learner