The
Winter's Respite Read-a-Thon
is just a bit over a month away on January 23 through January 29! It will start at 12:00am Monday and end at 11:59pm on Sunday. Times are central standard time so adjust your times accordingly. I plan to host a mini-challenge (or two or more) and there will be a giveaway for every one who signs in at the starting line and completes a wrap up post at the end. Of course, like most read-a-thons, the books read must be novels or novellas, adult or young adult are fine, but no children's books. You DO NOT have to participate the entire week. Join in when you can, start in the middle, end early...whatever works best for your schedule. As long as you sign in at the sign-in post and do some kind of wrap up post, you're in for the giveaway. As with my previous read-a-thons, it will be a week of relaxed reading during which we can personally challenge ourselves and whittle away those ever looming TBR piles/shelves/libraries. I hope you will join me!
You do not have to have a blog to participate. You can sign-up, sign-in, and wrap-up...all from Facebook, Twitter, or Goodreads. You can also do updates from those locations, if you do not have a blog. Also, to chat or update during the read-a-thon on Twitter, use hashtag #WintersRespite.
You do not have to do a post right now, unless you want to help get the word out. Just post a link to your blog (or to your post, if you decide to do one) in the Mr. Linky below.
I'm putting the call out to anyone who would like to host a mini-challenge and/or giveaway. Authors, if you would like to sponsor a giveaway or donate a prize, please let me know. You can contact me at truebookaddictATgmailDOTcom Any and all help will be greatly appreciated!
Grab a button: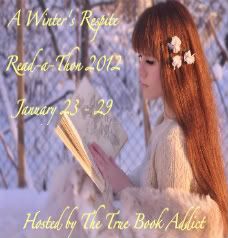 A new year! Time for more read-a-thons...YAY!