STICKY POST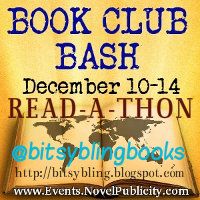 Okay, so I've been unofficially participating in this read-a-thon this week, although I haven't really been getting much reading done. I'm hoping to finish
Merry Ex-Mas
by Sheila Roberts and get started on a couple of other Christmas review titles that I haven't had time for. I also made some progress on
The Hobbit
.
Charlie at
Bitsy Bling Books
says you can join in any time so why not click the banner and sign up!
I just realized that the above read-a-thon ends tomorrow. Duh! Yes, my brain is on overload lately. So, I found out about this read-a-thon.
I'm signing up for this read-a-thon too! Hosted by
A Daydreamer's Thoughts
from Dec. 13 - 16. The premise of this read-a-thon is to read magical books (
Hobbit
...check) or Christmas/Winter themed books (check...check). Click the button or
HERE
to sign-up.
I'm making this a sticky post for updates. Now let's see if I follow through with those updates. ;O)