I learned of this app from Trish at
Hey Lady! Whatcha Readin'?
It was developed in conjunction with Staples and it was specifically designed with the reading of eBooks in mind. Not sure how it applies to paper books, but I think I read about the same in both formats. However, many people believe they read faster on their eReaders (a few of my blogging friends have mentioned this). Here are my results and a few fun facts surrounding my score.
My score was 271 words per minute.
8% faster than the national average.
According to the app, if I maintain this reading speed, I could read:
War and Peace by Leo Tolstoy in 36 hours, 7 minutes
Harry Potter and the Sorcerer's Stone in 4 hours, 44 minutes
Lord of the Rings in 29 hours, 26 minutes
1984 by George Orwell in 5 hours, 28 minutes
The Bible in 47 hours, 50 minutes
I could read 3.6 books on my Sony Reader before recharging.
Quite interesting! I'm 8% faster than the national average? Who woulda thought! And I thought I was a painfully slow reader. Now we know that my slow reading during read-a-thons is due to distraction and time wasting. I've been found out! *L*
If you would like to check out the app for yourself, click the image below. Have fun and come back and share what you got!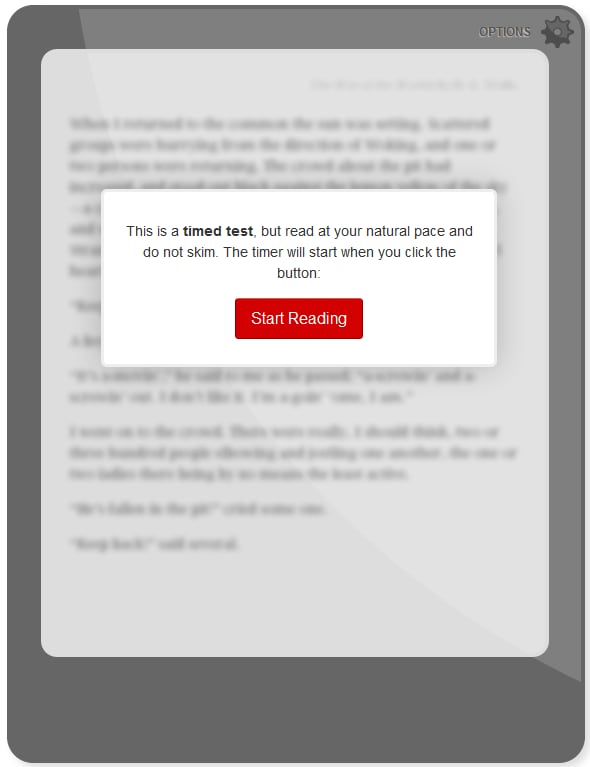 Source:
Staples eReader Department