Guys and Molls
Event production by


Kings of the boardwalk empire - Atlantic City's real-life wise guys
Boardwalk Empire
, a show in its second season on HBO, is quite the masterpiece of a depiction of prohibition era Atlantic City and its real-life wiseguys. Executive produced and directed, in part, by Martin Scorsese, the show centers on the life and times of Nucky Thompson, the undisputed ruler of Atlantic City, who was equal parts politician and gangster.
From the show's creator:
"Nucky (Enoch Johnson, sheriff of Atlantic City, New Jersey such-and-such years) is a complicated guy," says (show producer) Terrence Winter. "I think he's equal part politician and gangster. He's got a dark side, but he also has a benevolent side. I think the real Nucky probably didn't see himself as a criminal. I think he was more of a pragmatist, in the sense that he felt, that in order to keep the city running, he had to skirt the law.
"But the world was changing so quickly around him," says Winter. "Nucky is sort of changing with that too. The world he was used to was more genteel in its criminal element. But there are young guys all around him ready to use violence and he has to get comfortable with that."
Empire is based on Nelson Johnson's 2002 book,
Boardwalk Empire: The Birth, High Times and Corruption of Atlantic City
. But while the book covers decades of city history, the show focuses on the 1920s, a time of profound change in America, especially where crime is concerned. (
reference
for the above sections)
About the book:
For longtime Jersey residents, the phrase "Atlantic City politics" carries a pungent aroma all its own; the strong scent of cigars in backrooms, stale smoke from gambling arenas. New Jersey Superior Court judge Nelson Johnson has been observing the underpinnings of the boardwalk scene for three decades, both as a professional and an amateur history buff. His scintillating new book traces the city's long, eventful path from birth to seaside resort to a scandal-ridden crime center and beyond. The Sopranos with salt-water taffy. Now in paperback. (
Goodreads
)
Atlantic City's real-life wise guys
Steve Buscemi's character
Nucky Thompson
is based on Enoch L. Johnson, the sheriff of Atlantic City, who ruled Atlantic City for 30 years as the boss of the Republican political machine. Unlike the thin Buscemi, Johnson was a 6-foot-1, 200-pound man who rose to power by allowing crime to flourish while he and the police force looked the other way. Nelson Johnson, author of the book "Boardwalk Empire," on which the series is based,
told
the Press of Atlantic City that Enoch Johnson held power in two distinct circles -- organized crime and politics -- and "was able to make those two spheres one thing."
Under Prohibition, Atlantic City was one of the few cities where people could openly drink alcohol, and drink they did. Atlantic City became one of the most popular holiday destinations and won the nickname the "World's Playground." Johnson took a percentage of every gallon of alcohol sold.
"Johnson was famous for sporting flashy suits, his $14,000 powder blue limousine, pinky rings, a red carnation on his lapel (which he wore daily) and devouring platters of eggs and ham in his luxury suite after a night of debauchery with money-hungry showgirls,"
Ginger Adams Otis
wrote in the New York Post.
He was also famously helpful to the poor, and they helped him right back by providing the votes he needed to steer senators and congressmen into power. After three decades of power, though, a couple of documents Johnson thought had been flushed down the toilet led to Johnson's arrest and conviction for tax fraud.
Lucky Luciano
was the first boss of the
Genovese crime family
, which purportedly still functions today. Luciano is credited for much of the organization of the organized criminal world. He divided the mafia in New York into the five families and he set up the Commission to settle mafia disputes. He was connected with the start of casinos in Atlantic City, Cuba and Las Vegas. (portrayed in the show by
Vincent Piazza
)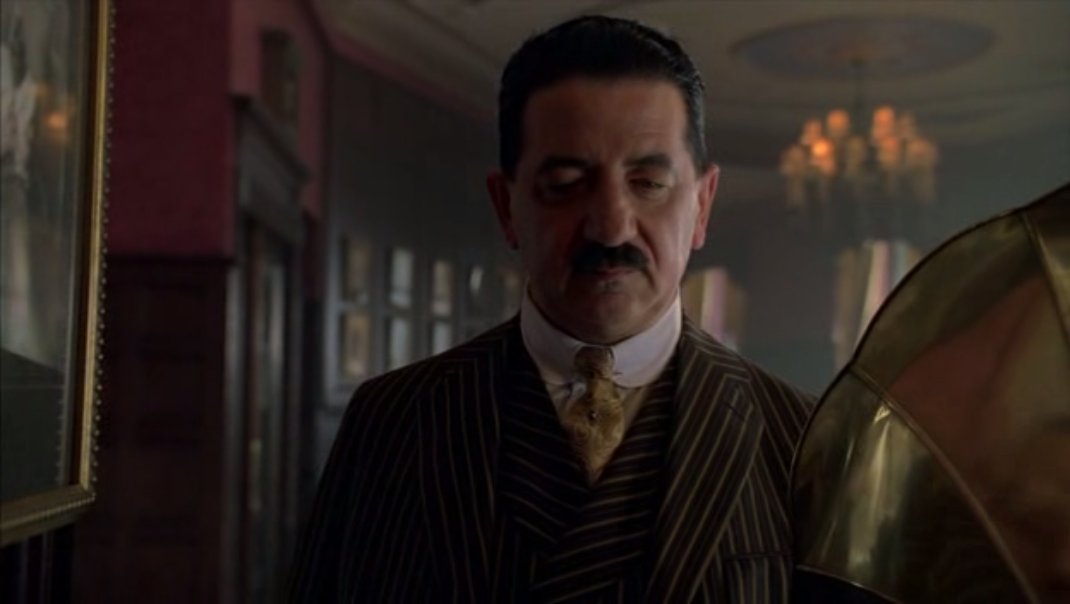 Jim Colosimo
was the kingpin of Chicago's flesh trade, Colosimo owned one of the most popular nightclubs in Chicago and most of the brothels with his partner and wife Victoria Moresco. He fell victim to the same vice he pedaled: lust. He fell for a young dancer, divorced his wife and made his empire suddenly vulnerable to take over. (portrayed as a guest in the series by
Frank Crudele
)
Frankie Yale
was a New York gangster who heard of Colosimo's infatuation with the young dancer. He saw an opportunity to take over his business, so he headed for Chicago where he reportedly shot and killed Colosimo, though the police were never able to prove the murder. However, his takeover attempt failed and he returned to New York where he maintained a gang in Brooklyn. (portrayed as a guest in the series by
Joseph Riccobene
)
Johnny Torrio
had been brought from New York to Chicago to help Colosimo run the brothel business. After Colosimo's death, he took over the business and created a vast empire. (portrayed in the show by
Greg Antonacci
)
Al Capone
, one of the most famous gangsters, got his start in 1920s Baltimore. Capone was a bookkeeper whom Torrio plucked from the city to work for him in Chicago, but Capone quickly rose to become Torrio's partner and eventually took over the business after a failed assassination attempt scared Torrio back to a life in Italy. (portrayed in the show by
Stephen Graham
)
(reference for this section is from
Melissa Bell
,
The Washington Post
, unless otherwise indicated)
***Guys and Molls - Goodies***
WIN this hilarious deck of flashcards, and you'll have fun learning how to sling some lingo.
About: Get a line on this racket: flashcards feature famous one-liners and slang from 1930s gangster classics. Dish out some gangster speak and your pals and enemies will think you were made for the silver screen. 30 movie flashcards, boxed. Preview:
Check out the deck
AND
WIN this great multi-title DVD, which includes four of the best gangster movies that were ever made. Host your own 1930s mobster movie marathon!
About: There are four vintage films included on this DVD.
(turn off the automatic music player in the right sidebar)
The Public Enemy
(1931) - A taut, realistic time capsule of the Prohibition Era, showcasing James Cagney's powerhouse breakthrough as a streetwise tough guy who rises high in the bootleg racket.
The Roaring Twenties
(1939) - Screen legends Humphrey Bogart and Ida Lupino star in this soulful study of a gangster whose hard-boiled persona finds itself at war with his compassionate side -
a side that will ultimately be his downfall.
Little Caesar
(1930) - Loosely based on the life of real-life Prohibition-era mobster, the infamous Al Capone. Edward G. Robinson rocketed to stardom as a pugnacious hoodlum who murderously rises to
the top ranks of the underworld.
Smart Money
(1931) - In their only screen teaming,
Little Caesar's
Edward G. Robinson leads the way and
The Public Enemy's
James Cagney rides shotgun in this brisk tale of barbers who go from cutting hair to cutting in on the gambling racket. (Source: Amazon product description)
HOW TO PLAY: There are four steps, but they're all fun and easy to do.
1. Leave a comment on this post, giving your take on this question: Have you watched Boardwalk Empire on HBO? If so, what do you think of the show? If not, after reading this post, would you watch it, if you could?
Feel free to sign it with your own mobster nickname or syndicate, or Twitter name.
3. Comment on ANY other third Guys and Molls post.
4. Share a link to ANY Guys and Molls post on Twitter.


Note: Please remember to include email address in entry form so you can be contacted if you win.
Additional info:
International. DVD is region 1/NTSC but should play on multi-region player.
Winner will be selected at random using
random.org
.
Ends December 15, 2011, midnight, EST
.
ENTER TO WIN:
Please enter using Rafflecopter widget above, which makes it simple and easy to keep track of your entries.
Have fun and good luck!
***This
Guys and Molls
feature has been brought to you by
Blood Bath Alice
of the
The True Book Addict
syndicate.***